Frequently Asked Questions
Learn more about our durable, lifetime raised garden beds.

Frequently Asked Questions about Durable GreenBed™ raised garden bed kits.
c

Expand All
C

Collapse All
Cedar vs Composite for Raised Beds?
Wood rots, with an average life where the soil touches it of 5 years.  Metal cuts and rusts.  Treated lumber  is toxic and leeches chemicals.  Plastic tends to warp and bend with a load of soil next to it. Composite boards like Trex aren't meant for this kind of use, and require supports to prevent warping.  So What is the best material for raised beds?   
Metal vs Wood for Raised Beds?
Modern looking metal raised beds are trending in urban settings now, but homeowners perhaps are unaware of the danger that the sharp, exposed edges in most beds post to children and adults.  One fall, and it will be very clear why metal raised beds are a hazard in most situations.  In addition, non galvanized metal will rust out relatively quickly when in contact with soil, and galvanized metal contains zinc, and it is unclear how much is contained in soil that is adjacent to galvanized metal.
Best Lumber for Raised Beds?
All lumber is temporary for raised garden beds.  Cedar and Redwood are naturally the most rot resistant untreated wood found in the US, but most wood lasts 4-6 years, and will rot quickly when in contact with warm, moist soil, rich in microbes, which is what is best for growing your garden.  You might be tempted to use Pressure treated lumber for your raised beds, but…
Pressure Treated Wood or Railroad Ties for Raised Beds?
 You never want to use pressure treated or chemically treated lumber, NEVER USE Railroad ties  for raised garden beds, as the treated lumber contains chemicals that are hazardous to human health and can leach into the soil and your food.  
Mineralized Composite Raised Bed!
Durable Greenbed's patented mineralized wood chip composite panels are  strong, non-toxic, durable and attractive.  We haven't found a better solution.  Have you?
It has been shown that GreenBed practically eliminates the invasion of slugs into the garden! The rough walls of GreenBed repel the slugs from crawling up the sides and into the garden.  This is a welcome benefit for gardeners everywhere who have battled these voracious feeders.
The 4 x 8 kits take between 45 and 90 minutes to assemble.  The 1' and 2' high Durable GreenBeds are easily assembled under 60 minutes of your time.  The tiered beds will take approximately 90 minutes.  All of the holes are pre-drilled. All that you need is a level place to put the Durable GreenBed, a hammer, a tape measure,  a cordless drill with a ¼" nut driver and Phillips head and a socket wrench with a ¼" socket.  Assembly is easy and instructions are clear.
Yes. Custom sizes and layouts are available  – Click Here
Durable GreenBed kits currently come in 11 configurations: 4'X4′ , 4'X8'  and 4'x12′ kits that are either one foot or two feet tall,  our  stepped and tiered beds combine both one and two foot tall wall sections and new 8'x8′ L Shaped beds are also available in two heights.
To see basic sizes and prices on our Durable GreenBed raised bed kits  click here.
Or find a retail store near you, click here.
GreenBeds are available to purchase in our online store, as well as in retail locations across the United States.
Yes!  Use a cement stain available at any home improvement center. Custom color for your Durable Green Bed is easy. You can use any cement stain to create a lovely decorative, fun contrasting, or coordinated color for your raised garden beds  The pictured samples were done with the Behr brand of semi transparent cement stains.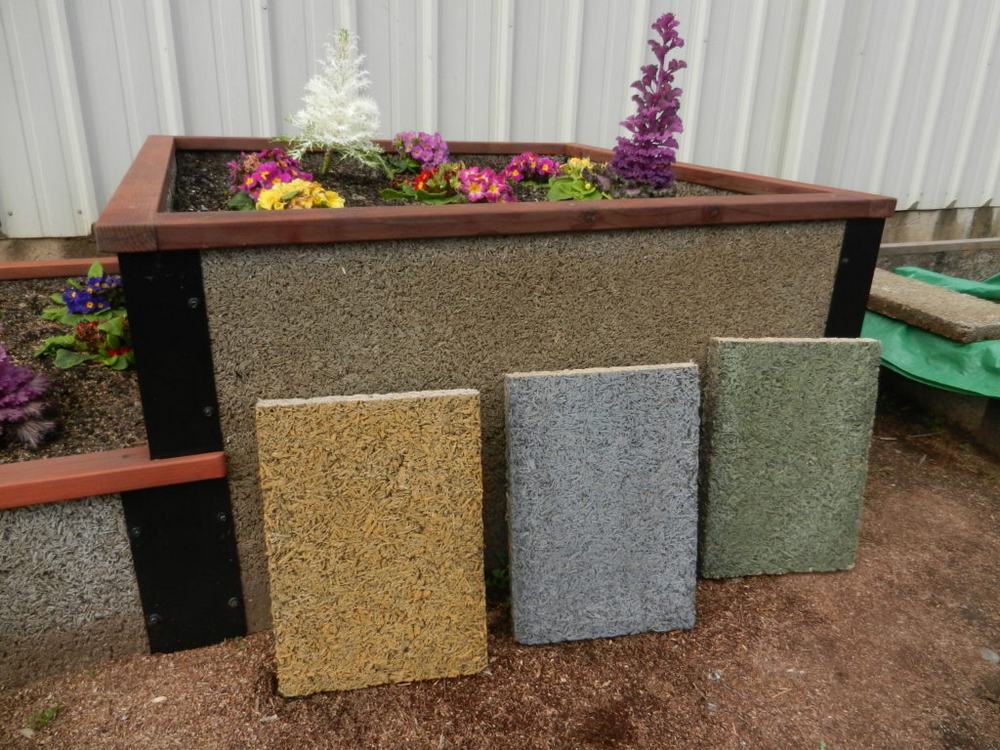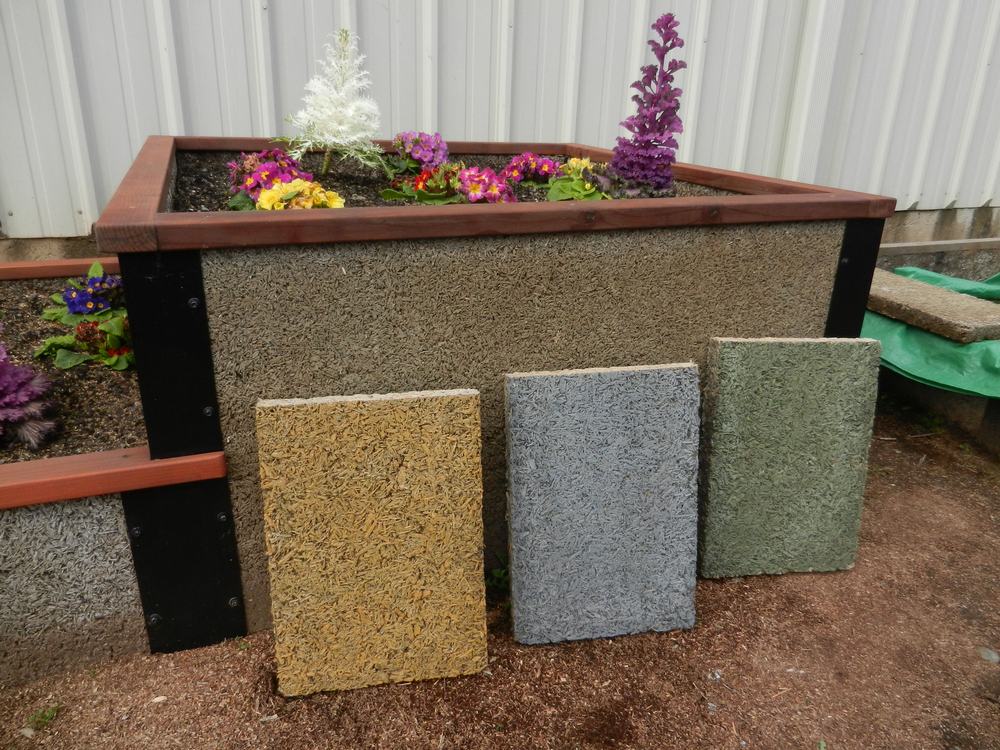 The woodchip-concrete composite used to create the Durable GreenBed panel have been available in Europe for over 70 years. In a study on durablity, composite panels were completely buried in moist soil for over 25 years and maintained their physical integrity when analyzed.
Yes!
Orders from $1,000-$1,999 qualify for a $30 discount.
Orders from $2,000-$2,999 qualify for a $60 discount and get a free Pro-Lite Garden Fork
Orders from $3,000-$3,999 qualify for a $110 discount and get a free Pro-Lite Garden Fork
Spend more than $4,000, and get a potential significant discount depending on location, as well as a free Pro-Lite Garden Fork
Pro-Lite Carbon Steel Tools – Award winning tools pair perfectly with Durable GreenBed Raised Garden Beds ! Lighter weights and longer, fiber-glass shafts make Radius Pro-Lite tools ideal for many home gardeners. They use bright colors for fun, but these are serious tools with lifetime guarantees. These will be your go-to digging tools.
Wood rots, plastic boards are, well, plastic and they don't stand up to UV, railroad ties are out due to creosote, cement blocks are heavy and unsightly, and pressure treated wood is suspect for vegetable growing.  The best materials for garden beds are attractive, durable, and non-toxic.  Most of the available planter beds are not that attractive-simply a wood or plastic box. Durable GreenBeds are healthy, durable, and beautiful. One of the best features is the breath-ability of our panels.  This brings oxygen to the root zone which greatly benefits healthy plant development.
The main component of the GreenBed is a unique material called Faswall, a woodchip/Portland cement composite material invented in Europe and used to build high-performance, sustainable buildings. GreenBed wallpanels are made from this same remarkable rot-free and non-toxic material. Other materials used for gardening beds such as wooden panels, plastic boards, cement blocks, railroad ties, and pressure-treated wood have either longevity and/or toxicity issues. In addition to the GreenBed panels the kits include aluminum brackets, and a cedar wood trim kit with a bio-based non-toxic penetrating oil finish.
GreenBed are the most durable, attractive, and non-toxic raised bed garden kits on the market today.
They are:
DURABLE. Last 25-30 years.
NON-TOXIC. Nothing in GreenBed including the stain on the wood is toxic.
BREATHABLE.  Brings oxygen to the root zone for the healthiest plant development.
GREEN. Made of HIGH RECYCLED CONTENT the panels have a 60%+ recycled content and the aluminum brackets have a 25%+ recycled content.
MADE IN THE USA. Preserving good manufacturing jobs in America.
ATTRACTIVE. They can be put in the front yard as well as the backyard.
QUICK AND EASY. Most models set-up in under 1 hour provided site is prepared.