Landscape Quality Raised Garden Bed Kits
for any installation.  Fast - Easy - Durable
Landscape Raised Beds -
Commercial
Raised Garden Beds
Durable GreenBeds install quickly, offer better profit margins
Project managers like the fact that Durable GreenBeds install quickly, allowing your field crew to move on to the next site.
By installing a large Durable GreenBed garden, your landscape company will enjoy better profit margins over constructing wood beds.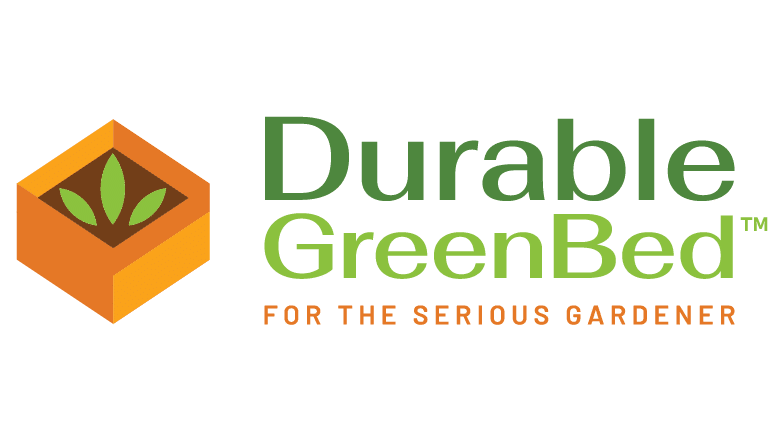 Durable Raised GardenBeds
Easy to Install Kits
Save on Labor
What are Durable GreenBeds Made of?
1.Bed is formed from Faswall® panels, a remarkable woodchip/cement composite that lasts for decades and is totally nontoxic.
2. Cedar trim kit is precut with doweled joinery and is finished with a natural plant-based penetrating oil.
3. All fasteners are included and all holes are predrilled for fast, accurate installation!
4. Six durable painted metal brackets.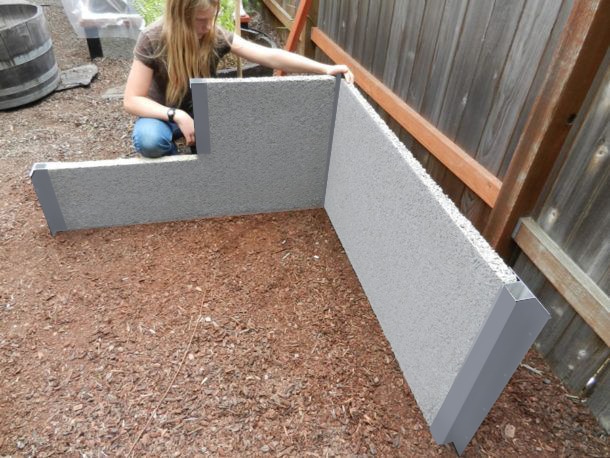 Each standard kit includes:
Six Faswall® wood/cement panels with predrilled mtg. holes
Six black metal brackets with six stabilizing stakes
Beautiful precut natural oil finished cedar trim kit
All corrosion resistant fasteners and complete, illustrated instructions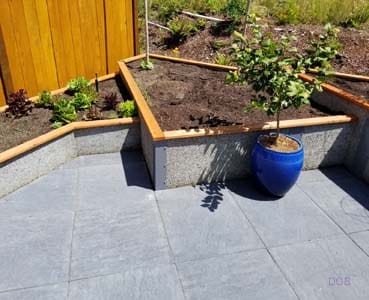 Top Quality Landscape Bed Kits, Made to Order!
Finally, a Raised Bed Garden Kit with all of the features your customer wants. And priced for your success.
See a 40+ Durable GreenBed™ installation at a Continuing Care Retirement Community to the right or by viewing our brief YouTube video using this shortcut link: bit.ly/seniors-dgb2
Durable, Attractive, Customizable, Easy Assembly!
Constructing custom wood raised beds for your clients is an expensive proposition taking considerable time for your crew.   Durable GreenBed allows you to charge reasonably, enjoy a higher margin, and give your client a product that will last, is non-toxic, and is beautiful.
Between 45 and 90 minutes to assemble the most popular kits.
Great aesthetics
Custom layouts including:

One or two feet high
L-shaped or U-shaped design
Tiered options

Non-toxic.  For edible landscapes, this is is an important selling point.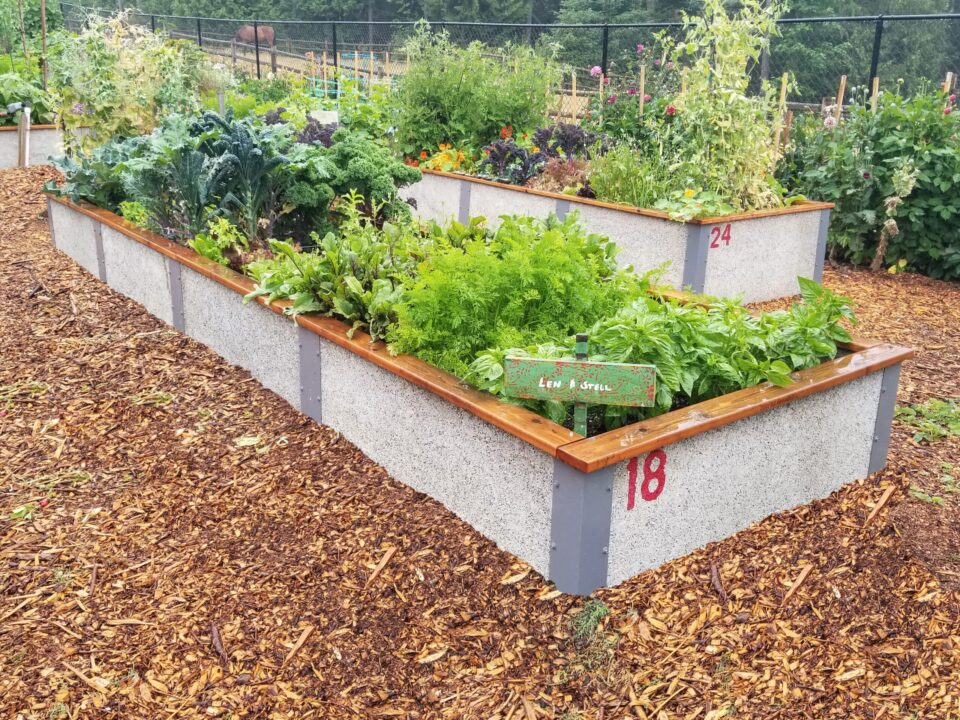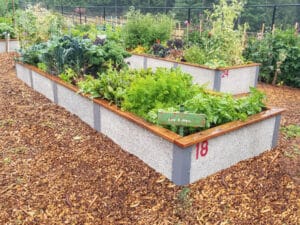 Raised Planter and Garden Bed kits for Landscaping projects.
Landscape Professionals have been at a loss for what to offer their clients for raised garden beds. The go-to material has been wood which can be very attractive but it just doesn't last. Pressure treated wood is suspect for chemical leaching into the soil. To combat that some are lining the beds making them impervious. Now you run the risk of harboring harmful mildews. Durable GreenBed has the solution.
A. Buy and Assemble Pre-Configured Kits
Purchase complete Durable GreenBed kits ready to install
4×4, 4×8, 4×12, 4×16, and now 8×8 L Shaped complete GreenBed Planter Raised Garden Bed kits with prefinished cedar  top rails.  Both 1′ high, 2′ high, and tiered beds (with both 1′ and 2′ high planting areas) are available.     Includes GreenBed Panels, brackets, stakes, fasteners, prefinished, predrilled cedar rail trim kit.  We will also work with you on custom sizes.  Please contact us to discuss.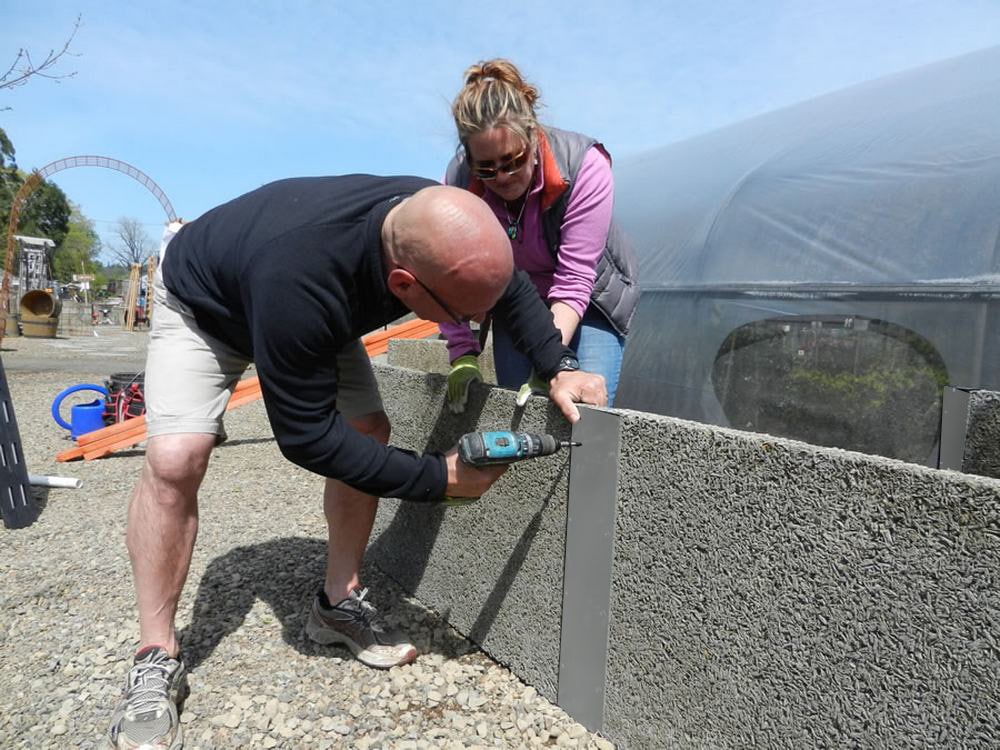 B. Design Your Own, and Order Materials:
Purchase just the Durable GreenBed panels and brackets
Purchase just the GreenBed panels and brackets. Panels are either 12″ high or 24″. Our aluminum corner and joiner brackets allow you complete design freedom for your creative layouts.
Panels cut easily with a circular saw or table saw. You can outfit the top of the finished beds with your own trim system. We use top grade, tight knot western red cedar finished with a bio based (citrus oil) stain.
You will not  find a more attractive, more durable raised bed garden kit than Durable GreenBed™! It is an American made, high quality design, engineered to last 20-25 years or more:  GreenBed woodchip-cement panels, extruded aluminum brackets with a baked on architectural grade paint, 1000 hour salt spray tested fasteners, beautiful cedar rail trim kit with a bio based non toxic penetrating oil finish.  All holes are pilot drilled for accurate, fool-proof assembly.
Contact us to receive the Landscaper packet with pricing.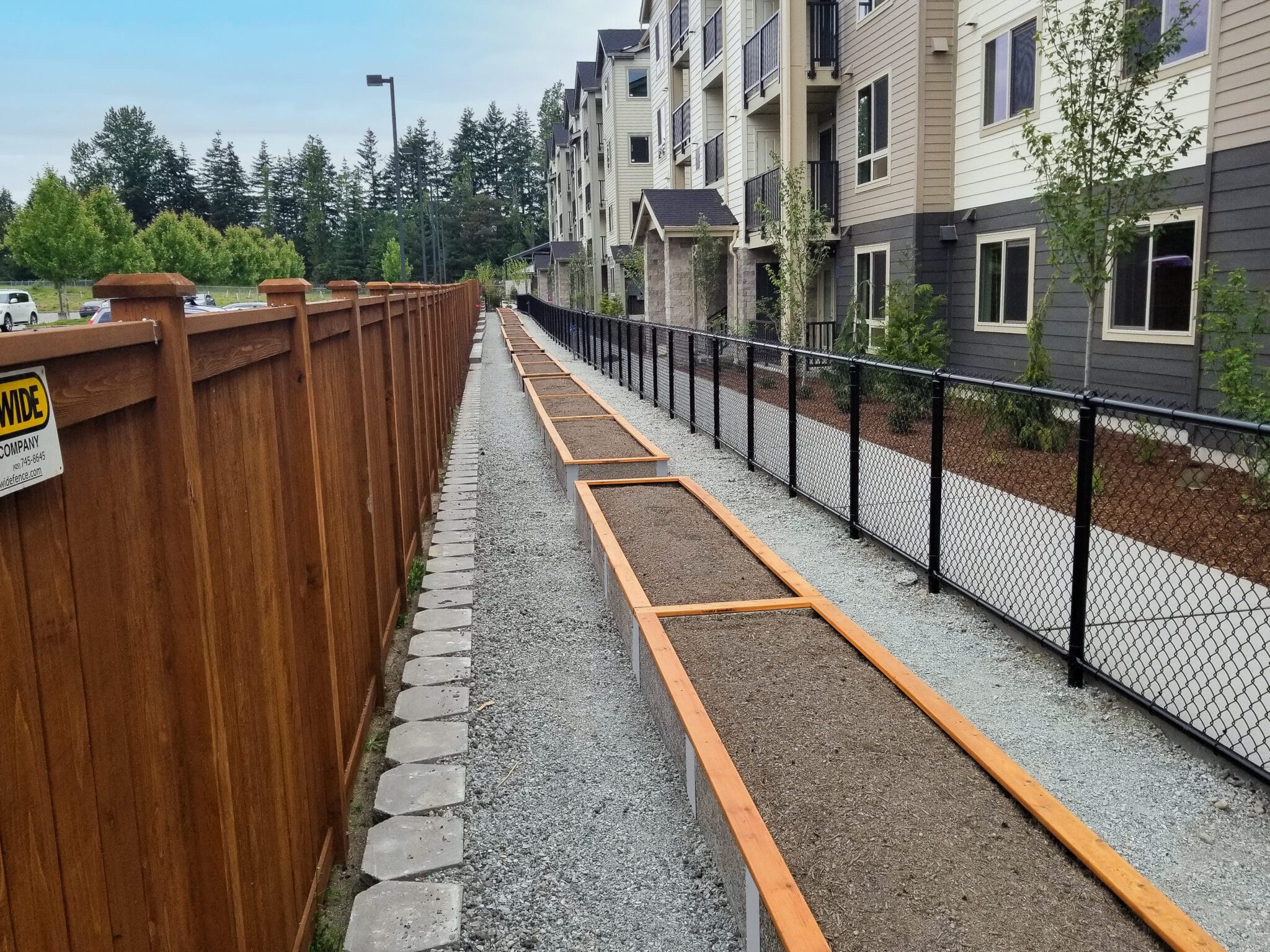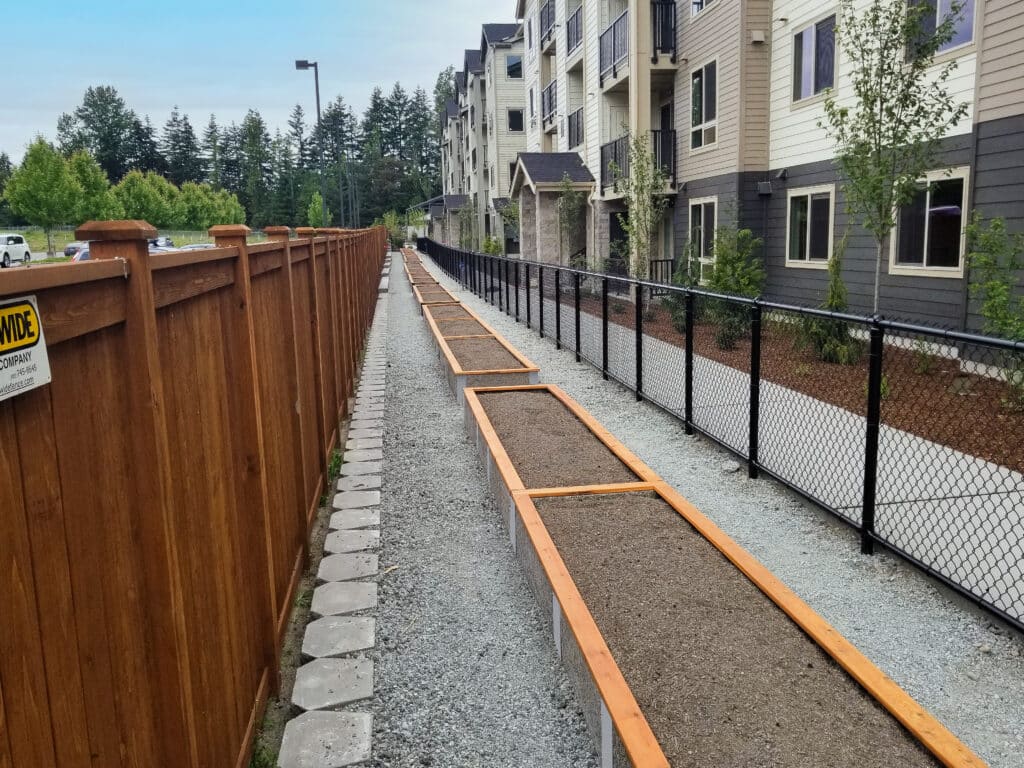 Durable GreenBed
4'x8'x2' Kit
Predesigned with step-by-step instructions
GreenBed Kit Ships Complete with: 
(6) Durable GreenBed woodchip-concrete composite side panels
(6) Aluminum brackets with architectural grade baked paint finish
Prefinished, predrilled western red cedar tom trim 3.5″x1″ thick
Bag of Fasteners + stakes
Pre-drilled & Finished Top Rail Pieces 
Shopping Lists:
2x12x9′ Rough Sawn Cedar
5/16'x4″ Galv.Lag Screws
 5/16″ Galv. Washers 
4x4x53″ Cedar Post 
2x6x12″ Cedar Decking 
Quart of Non-Toxic Stain 
Deck Screws 
Cordless Drill
Square
Level
Electric Drill 
Socket Wrench
Hammer
Measuring Tape 
Square
Level
Chop Saw 
Crush or Roller to Apply Wood Finish 
Safety Glasses 
Access to a truck to Haul Lumber 
60-90 Minutes to Install, Saving you 4 to 6 Hours of your time! (~$200) 
$752.00 cost of kit + ~$100 in labor
Last 20-25+ Years 
Lifetime Cost of Ownership: ~ $852.00 + cost of re-staining top trim every 2-3 years
6-8 Hours to Build 
~$300.00 in Labor + $210.11 in materials 
Replacement every ~6 years
Total Lifetime Cost of Ownership: ~$2,040.44
(Based on Replacing 4 Times over 25 Years)
Usable: 20-25+ Years
Attractive: 20-25+ Years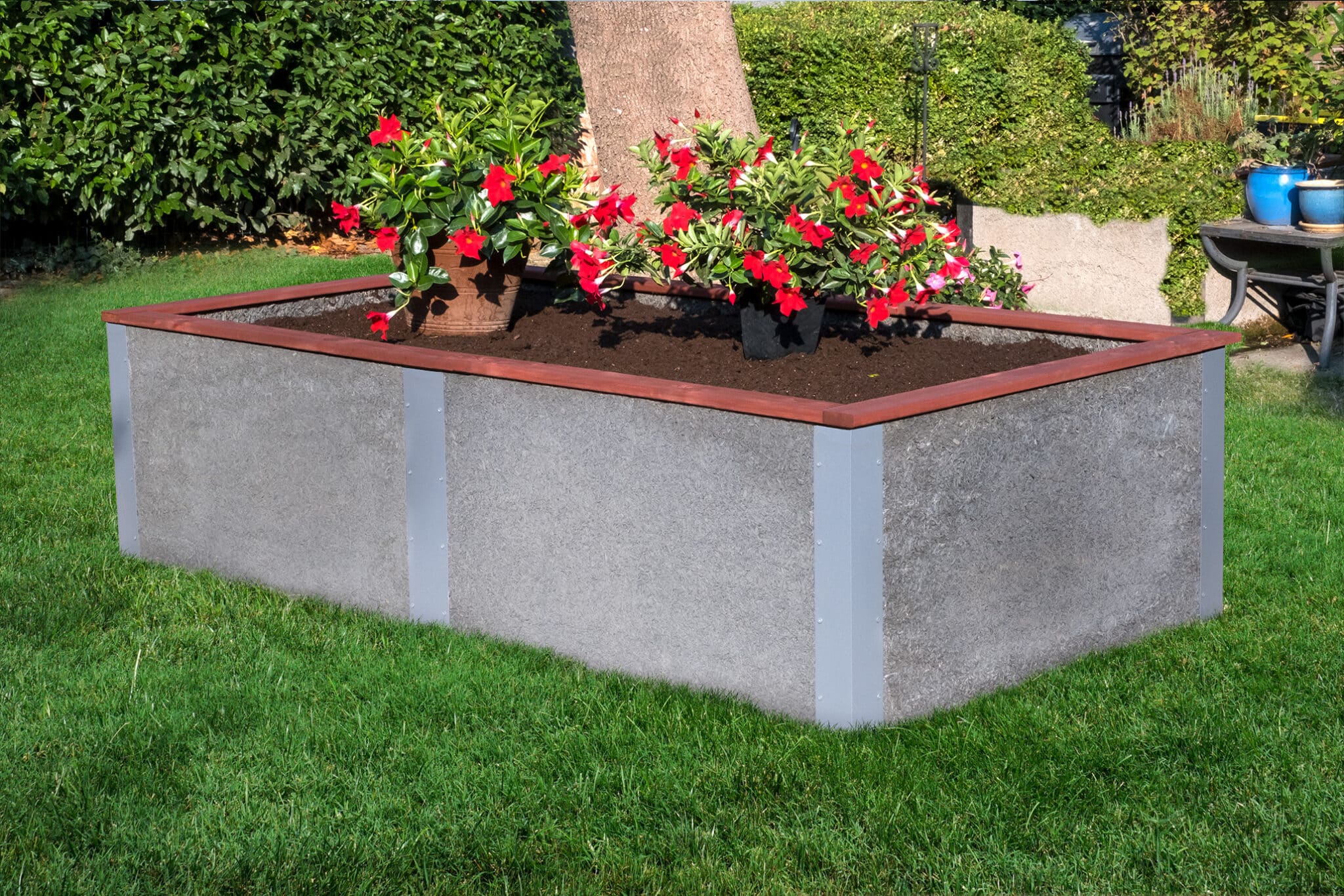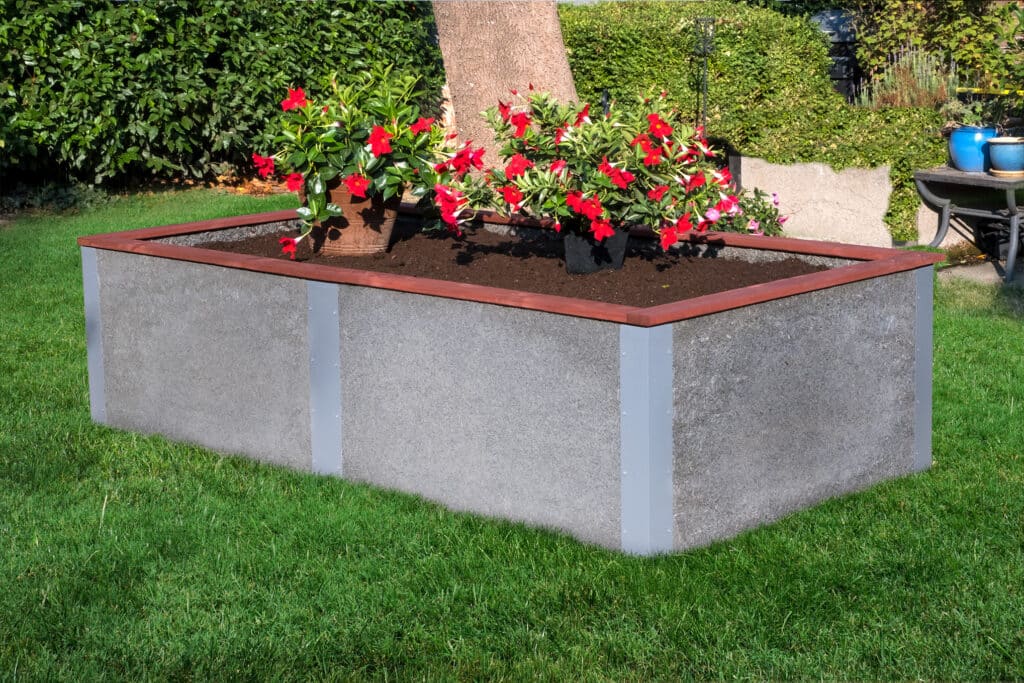 Usable: 6-8 Years
Attractive: <3 Years